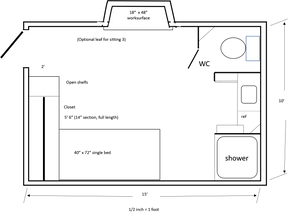 This minimal efficiency living space is designed to meet the basic needs of sheltered living off the streets.  Minimal wage earners should be able to find these units available,  Homeowners will enjoy a Real Estate Rule exceeding 1.5% to assure an inviting ROI. 
Options available include:
basic shell, ADU-150.1 ... as a non-habitable, accessory building 
functional ADU-150.2 ... as a habitable accessory structure including mini-WC, kitchenette, shower
optional wall panels, bed, closet, cabinets and cupboards available.
 Contact "info@clerisity.com" for ordering details and availability.  Seeking "owner builders" and partner contractors currently.